Workshop - Micro Shell Formed and Fabricated Plantae and Arthropods (Botanicals & Bugs)
$

375.00
Sold out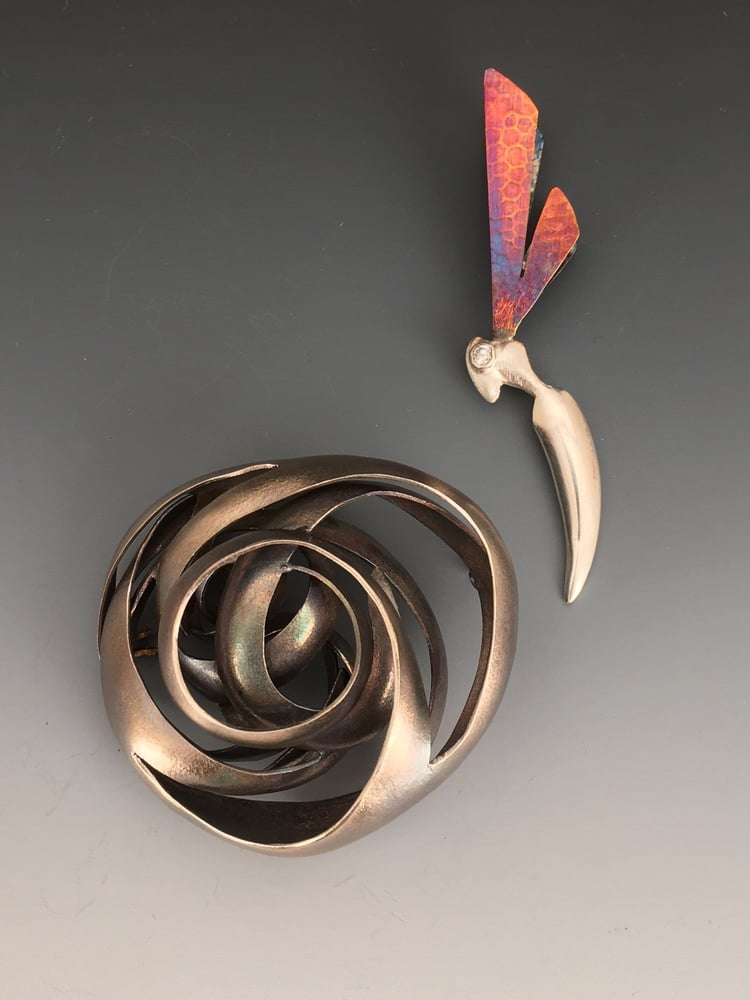 August 10 - 12, 2018 Newberg, OR
Newberg Jewelry Studio School and Supply,
2401 Hancock St A2, Newberg, OR 97132.
The plasticity of metal makes it one of the most wonderful materials to form with traditional methods. Floral forms can be easily coaxed from metal. This workshop will focus on techniques that include Carving, Micro Shell Forming, Sand Casting and Die Pressing. These techniques can also be combined to create fantastical creatures on botanical supports. We will embrace Anticlastic and Synclastic Micro Shell Forming, utilizing hammers and stakes for the creation of leaves, wings, twigs and bodies. Sand cast carved or found objects may be incorporated into the work as well as die pressed components.
This will be a fabrication class that includes many tips and tricks accumulated over 30 years of metalsmithing and education. Students will learn how to incorporate many techniques to create finished works of art. Wearable or table top sculpture.
All tools will be provided. Each student will lease two complete kits, one for forming metal and one for fabrication, $35.00 for both, due at time of workshop. They need to bring metal and any other materials they want to use making botanical and bug projects with.
Cancellation policy - $75 non-refundable deposit. The $300 balance is refundable until 45 days prior to start of workshop.